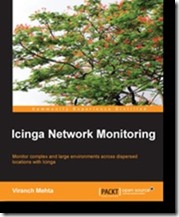 Der Verlag Packt Publishing ist an mich herangetreten und hat mich gebeten, eine Rezension zum soeben erschienenen Buch Icinga Network Monitoring von Viranch Mehta zu schreiben.
Eigentlich hatte ich keine Zeit, aber wenn mir jemand mit "Keeping in mind your knowledge in this subject and having looked at your contributions, I feel you'd make an excellent reviewer of this book." kommt, dann werde ich natürlich schwach.
Das Buch richtet sich an eine Leserschaft, die bisher keinen Kontakt zur Icinga (bzw. Nagios, Naemon oder Shinken) hatte. Linux-Kenntnisse werden aber dennoch vorausgesetzt. Ziel des Autors war es, eine nachvollziehbare (im Sinne von: sofort am Rechner umsetzbar) und möglichst vollständige Anleitung zu erstellen, anhand derer ein Icinga-Neuling (mit ein bisschen Hirnschmalz sind die Schritte aber auch auf die o.g. Geschwister von Icinga anwendbar) in kurzer Zeit ein Basis-Monitoring für seine IT-Landschaft aufsetzen kann.